(WB) Italy and Spain remain two of the countries hardest hit by the global coronavirus pandemic.
The latest statistics from Johns Hopkins University of Medicine indicate there are 69,176 coronavirus cases in Italy. The disease has killed 6,820 people in the country.
Statistics from John Hopkins University of Medicine as of deadline note 47,610 confirmed coronavirus cases in Spain. The disease has killed 3,434 people in the country.
Tiziana Fisichella, coordinator of Milan Pride, spoke with the Washington Blade on Tuesday from her home in Milan, a city in Italy's Lombardy region that remains the epicenter of the country's coronavirus outbreak.
She noted Italy has been in a "total lockdown for a few days." Fisichella also told the Blade via WhatsApp she lost her job three weeks ago.
"Most citizens have not left their house for a few weeks," she said, using Google Translate to speak with the Blade in English. "Lombardy, where I live, is one of the two regions with the most cases and victims. Almost all commercial and manufacturing activities are stopped."
Marco Cacciato Insilla is an LGBTQ activist, author and teacher who lives in Florence with his boyfriend.
Insilla told the Blade on Monday he sends video lessons to his students from his home because Italian schools have been closed since March 5. Insilla said his boyfriend is a mechanic and the government has deemed his job essential, but he has not gone to work since last Thursday because "there is little work."
"Cities are almost empty," Insilla told the Blade, noting he uses a grocery delivery service so he does not have to leave his home. "The government has ordered everyone to stay at home, and many people are sticking to the rules."
Cathy Renna, a long-time LGBTQ activist who lives in Montclair, N.J., on Monday told the Blade during a telephone interview from her home that members of her extended family in Conversano, a medieval town in southern Italy's Puglia region, remain isolated in their homes.
Renna said her cousin was studying at the University of Milan and "fled" to southern Italy "right before the very serious lockdown." Renna told the Blade her cousin since she returned home has been self-quarantined alone in an apartment her family uses as an office.
"She went in there," said Renna. "She's probably coming out I think sometime this week; the two weeks is up. She'll get tested and then she'll be able to join family."
"It's like prison," added Renna, noting her family leaves food for her cousin outside of the door of the apartment in which she is self-quarantined. "They take this very, very seriously and it's because up north it wasn't taken seriously and we've seen what happened."
Renna said another cousin is a doctor who has been transferred to the emergency room in anticipation of more coronavirus cases in Puglia.
"They're braced down south for what has been slowly, but surely spreading from the north," she said.
The International LGBTQ+ Travel Association has postponed its annual convention that was to have taken place in Milan from May 6-9. Axel Hotels, which caters to LGBTQ travelers, has closed its property in Venice because of coronavirus.
Milan Pride is scheduled to take place from June 19-27. Fisichella told the Blade organizers have not made a final decision about whether to postpone the event, but she said they "are ready to make the best one for the welfare of all."
"We would like to able to announce that everything remains as expected, but I fear it is a utopian vision," said Fisichella.
Meanwhile, LGBTQ Italians are doing their best to cope with the coronavirus lockdown.
Arcigay, an Italian LGBTQ advocacy group, posted to its Facebook page a video that shows men how to properly use a condom.
Insilla said he and his neighbors everyday at 6 p.m. walk out to their balconies or go to their windows and sing together. Insilla also told the Blade they clap for doctors and nurses "who are doing an extraordinary job."
Fisichella said she is using the lockdown to work on future projects. Fisichella added the only way to stop coronavirus from spreading further is "by limiting social contact as much as possible."
"This is what all people can and should do," she said. "Nobody is immune, but we must all feel responsible for the health of others. We stay at home, we go out only if really necessary."
"There will be a time to hug again," added Fisichella.
Coronavirus in Madrid is 'very bad'
Activists in Spain are also trying to respond to the coronavirus pandemic that has prompted Prime Minister Pedro Sánchez to place the country under a near total lockdown.
Madrid remains the epicenter of Spain's coronavirus epidemic with 14,597 cases. Statistics indicate 1,825 people in the Spanish capital have died from coronavirus.
A source in Madrid with whom the Blade spoke on Saturday said the situation in the Spanish capital is "very bad." Uge Sangil, president of Federación Estatal de Lesbianas, Gays, Transexuales y Bisexuales (FELGTB), a Spanish LGBTQ advocacy group, agreed.
"People who live in Madrid are even more scared," Sangil told the Blade on Tuesday during a telephone interview from the Canary Islands. "There is a lot of uncertainly because we don't know what our future will be, when this is going to end, how we are going to incorporate it (coronavirus) into our day-to-day life."
Upwards of two million people were expected to attend Madrid Pride that was scheduled to take place from June 27-July 5. Organizers on Tuesday announced they have postponed it.
Sangil said Madrid Pride was postponed "out of responsibility."
"It is a decision that was made with a lot of pain, but we also understand it was the responsible thing to do," Sangil told the Blade.
FELGBT has launched Línea Arcoíris, a hotline that allows LGBTQ Spaniards and other vulnerable groups to call or email while they are isolated in their homes. FELGBT has also created Espacio Arcoíris, an online platform that allows LGBTQ Spaniards to participate in events that focus on a variety of topics that include HIV prevention and literature.
"It is a space where the federation offers cultural programs through its social media pages," Sangil told the Blade. "It is a tool to talk about certain issues that worry us and also get in touch."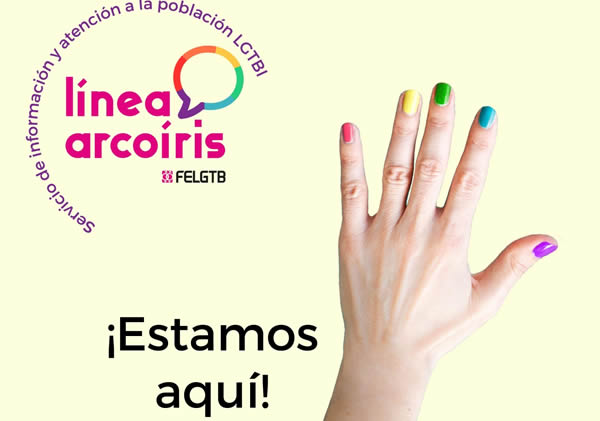 Coronavirus has also had a significant impact on other Spanish LGBTQ advocacy groups.
Rafael Roble Reina is president of Asociación Melillense de Lesbianas, Gays, Transexuales y Bisexuales (AMLEGA), an advocacy group in Melilla, a Spanish city on the north African coast that borders Morocco.
Roble told the Blade on Tuesday during a WhatsApp interview from Melilla that he and his colleagues "take turns" working in their office. Roble said most of the LGBTQ asylum seekers with whom AMLEGA works are not allowed to leave the facility in which they currently live because of the lockdown.
"They cannot leave from there during the quarantine," Roble told the Blade. "They are now confined."
Sánchez on Sunday announced he wants to extend the lockdown until April 11, which is the day before Easter. Sangil told the Blade the Spanish government is "doing everything it can do" to try to stop the coronavirus.
"The government has taken the correct decision to extend the lockdown until after Holy Week to also prevent the flow of people who leave for vacation," she noted. "There have certainly been mistakes, but I think that we are in a very serious situation."