(WB) As Bernie Sanders's supporters downed beers and munched on hummus and nachos at Ingersoll Pub ahead of the Super Bowl, Rep. Mark Pocan (D-Wis.) had a message: Don't forget to spread the word before the Iowa caucuses.
"In the next 24 hours, if you can please do this: Talk to everyone, you know, your friends, your family members your roommates, your co-workers, your exes," Pocan said.
But then Pocan conceded: "Maybe not your exes, especially if they're in the plural."
A co-chair of the House Progressive Caucus and one of seven openly gay members of the U.S. House, Pocan has a political outlook similar to Sanders and touted the candidate's views at the Super Bowl party, which was organized by the Sanders campaign.
"He wants a more fair, inclusive government that works for everyone, not the special interests and the well-connected and the wealthy, right?" Pocan said. "We all want to make sure that we're raising the minimum wage to $15, making it easier for workers to form a union. We want to make sure health care is a universal right for everyone. We support the Green New Deal and want to fight climate change."
It was a rallying cry that resonated with the crowd, which mostly consisted of Bernie Sanders campaign volunteers coming to relax after long days on the campaign trail.
(The only exception was when Pocan expressed regret the Green Bay Packers from his home state of Wisconsin didn't make it to the Super Bowl, eliciting at least one boo from the audience. Pocan retorted the Packers are the only publicly owned, not-for-profit, major professional team in the United States.)
Pocan was among other prominent Sanders supporters pumping up the crowd at the Ingersoll Pub. Other speakers were Rep. Ro Khanna (D-Calif.) and former Ohio State Sen. Nina Turner.
If polls in Iowa are any indication, Sanders is the front-runner in the state and will do well in the caucuses Monday — and his organizers and supporters are making sure that will happen.
Nick Smith, a 31-year-old D.C.-based digital strategist, said he came to Iowa to help after having worked for Sanders in 2016 because "he has been fighting on all the issues that I care about his entire career."
"He is the most trustworthy candidate, he's the candidate most likely to beat Trump," Smith said. "He's been fighting for me his entire career. I believe in him and I trust him."
Sanders himself made an appearance at the party, coming in to a warm reception as he entered the pub as supporters greeted him with chants of his slogan: "Not me, us! Not me, us!"
Calling the 2020 election the "most consequential election, certainly in the modern history of America and quite possibly in the history of America," Sanders said removing Trump from office is essential.
"We don't need a president who thrives on divisiveness, thrives on trying to divide us up," Sanders said. "And my promise to you that as president, our administration will bring our people together, black and white and Latino, Native American, Asian American, gay or straight. We're going to bring our people together around an agenda that works for all of us, not just the 1 percent."
But first Sanders has to win the Democratic nomination. Sanders struck a note of caution, telling his supporters turnout will be key to the results on caucus night.
"If the turnout tomorrow night is low, we're going to lose," Sanders said. "If the turnout is high, we're going to win. So our job together is to create the highest turnout in the history of the Iowa caucus."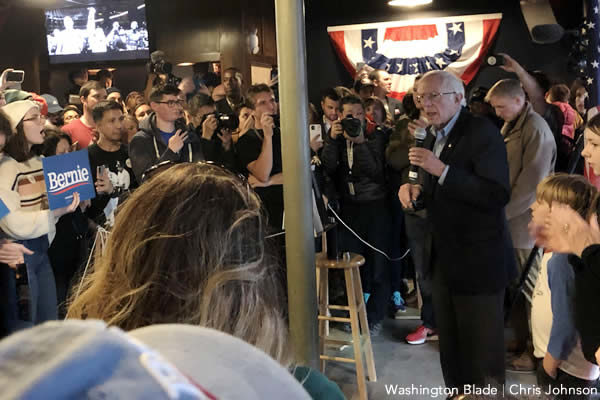 The remarks were light on policy, but that seemed exactly what was needed for the attendees at the Super Bowl party, who were more focused on enjoying themselves on game night after long days of campaigning and knocking on doors for their candidate.
Wesley Higgins, a 30-year-old Sanders volunteer from Brooklyn, N.Y., told the Blade as he was waiting in line for the event he was expecting to "have a beer, watch the game, talk with all these lovely people."
"That's what I think this race is fundamentally about: A lot of people coming together, and realizing that there's a lot of power in their hands for the many, not the few," Higgins said.
Sanders, who said in his remarks he had to return that night to Washington for President Trump's impeachment trial, left the pub after only a few minutes, ignoring reporters' questions on John Kerry's threat to run against him in the primary.
Pocan, asked by the Washington Blade about what he thinks Sanders's relationship with LGBTQ people would be as president, said he thinks "a lot of support over a lot of decades for the LGBT community."
"I think whether it be his talk about good family supporting wages, good health care access for everyone or stopping endless wars, these are all issues that we all talk about," Pocan added. "And I think having someone who's as authentic and consistent as Bernie Sanders has been will be really strong to have a good advocate for equality in the White House."
Over his decades in public service, Sanders has a record in support of the LGBTQ community. Sanders was one of a few members of the U.S. House in 1996 to vote against the Defense of Marriage Act. As a U.S. senator, Sanders was an early co-sponsor of the Equality Act to prohibit anti-LGBTQ discrimination.
Pocan, who's been stumping for Sanders for several days on the last leg of the campaign before the Iowa caucuses, said he's found people in the state are "very energized, very excited about a message that's really his slogan, 'not me, us.'"
"It's not someone from the top down telling you what they're going to do for you and instead talking about as a movement what we can do for ourselves," Pocan said.
But Sanders is now facing headwinds within the Democratic Party as he has taken the front-runner status in the presidential primary, including opposition from previous Democratic presidential nominees.
Coming off remarks weeks ago in which she said "nobody likes" Sanders, Clinton — who has attributed his candidacy as one of the many reasons for her loss in 2016 — has doubled-down in recent days and said the candidate attacked her in the primary four years ago.
An NBC News report revealed Kerry has privately said he'd consider getting into the primary if Sanders seemed poised to take the nomination, although on Twitter he denied that reporting. (An initial version of the tweet included profanity. Although Kerry almost immediately deleted the tweet, it was widely viewed.)
Asked to comment on opposition to Sanders within the Democratic Party, Pocan said "there's a lot of people in the political class, unfortunately, back in Washington who don't really want to see things change that much."
"They're doing pretty good for themselves, the well-connected and others, and they're the ones who don't like Bernie's message," Pocan said. "But the reason Bernie's doing so well in places like Wisconsin and Iowa and Michigan and Pennsylvania, people aren't doing as well, and they really are looking for something that will make their lives better, and Bernie's message really resonates."
---